London, United Kingdom
Lola Black and Adam Bracegirdle
Lola Black and Adam Bracegirdle live in a two bedroom flat in the heart of London's Clerkenwell. Both Lola and Adam have careers in the creative industries, Lola for production studio Unit 9, which works with companies including Adidas, Google and Xbox and Adam as a creative director collaborating with the likes of Nike, Bottega Veneta and luxury department store SKP Beijing. It's no surprise then that their apartment is beautifully styled, with pieces they have collected over the years.
Firstly, could you introduce yourself?
Lola: My name's Lola Black and I'm a director's rep for directors who film commercials.
And Adam, I believe you work in fashion?
Adam: Yes, I was the executive creative director of Vice and then the seasonal artistic director of Stella McCartney for a time. I am currently a freelance creative director and curator, working for brands such as Prada and Marni.
How long have you lived here?
Lola: We've been here for nearly three years. We chose this area as it is really central, it was in between where we were both living before we moved in together. A lot of our friends live nearby. It was the second or third place we saw and we really liked it. The building used to be a newspaper factory that has been divided up into flats. We liked the layout: the fact it is over two floors, there are two bedrooms upstairs.
Can you describe your style?
Lola: It's a mix of simplicity and pieces which tell a story. For example our cushions are made out of leftover fabric from the London Tube in the 1980s. We have a bus bench from Milan Malpensa airport, an antique French tapestry from the turn of the century that we found in Istanbul market, mixed with a coffee table that comes in the Memphis style by Ettore Sottsass.
How did you get started with USM?
Lola: Our first piece was the wardrobe. The flat had no storage and we were also looking for something to take with us in the future. And of course the showroom is just down the road!
Adam: We liked the fact it was modular too and that it would fit in with any space, particularly the angles of the interior here - there is a pitched roof. We liked the fact that we could just remix it with something else as and when we wanted.
Lola: It was really easy to build what we wanted using the website.
Adam: I studied architecture for a while so I actually did all the designs in CAD and sent them over.
Once you had the wardrobe, you could see the possibilities of USM elsewhere?
Lola: Yes, in the bedroom, we also have a vanity unit and two bedside tables in black. And when we needed something for our TV, we also chose USM. We had it made to measure for the speakers we had and we have a record player too. We really like the fact the bookshelves are magnetic so the books stay in place. We like the fact we can display pieces we've been collecting and people have started buying us things to put on it.
"What do you like about the product? "The beauty of USM is that you can pair it with something very old or super modern and it always works."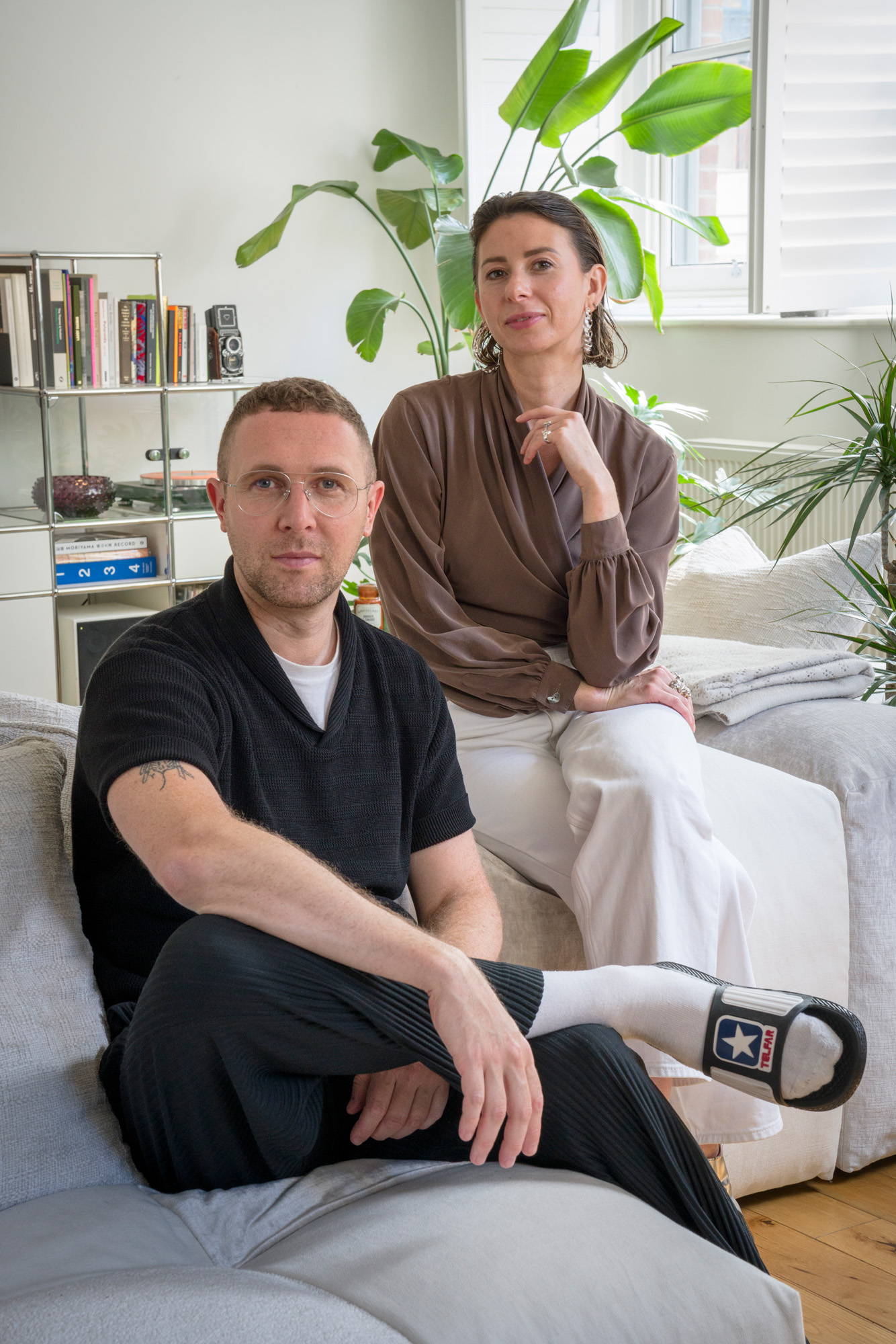 Many thanks to Lola Black and Adam Bracegirdle for showing us around their beautiful home and telling us the story behind it.
If you want to purchase a USM Haller piece yourself design it now in
our online configurator, or find a quick-ship selection of curated
USM pieces online shop, or find your local sales partner here.
Or visit our USM showroom in London.
Photographer: Gareth Gardner